October at Inhotim
In October, the Inhotim Institute opens its doors from Wednesday to Sunday, and has extended opening hours on the Our Lady of Aparecida holiday, operating on October 12 and 13 through 5:30 pm.
Take the opportunity to discover the works by Abdias Nascimento produced between 1968 and 1971, a period in which the artist was in exile. The exhibition Terceiro Ato: Sortilégio is on view through October 8.
Visit the museum and botanical garden, and also see the new exhibitions on view at Fonte Gallery and Lago Gallery. Direito à forma features works by 30 black artists who aim at expanding the possibilities of artistic creation and investigate the relationships between form and narrative, underscoring the endlessly possible paths for Afro-Brazilian art and its visual poetics.
Make the modern, build the contemporary: Fazer o moderno, construir o contemporâneo: Rubem Valentim presents an overview of Rubem Valentim's work and his experiments involving dimensionalities, symbols, geometries and compositions, highlighting the centrality of the artist's shared experience and dialogue with other artists. Neighboring works by other artists who engage in investigating synthesis and content are also included in the exhibition.
Also take take the opportunity to discover rare plants from all continents: Inhotim's gardens hold 4,300 botanical species, including species from other biomes. Discover the Educational Plant Nursery in the visit Behind the Scenes at the Plant Nursery, on October 29, reflect on health e well-being at the visit Well-being Inhotim on October 4, and get an overview of Inhotim's collections at the Panoramic Tour, which takes place daily.
Educational Visits
This month, the Educativo Inhotim promotes several themed visits that propose reflections on contemporary issues based on Inhotim's works of art and nature.
In October, take part in the visit Memórias e Democracia [Memories and Democracy] and share parallel views between Brazilian literature and Inhotim's art and plant collections in the visit Reading what surrounds me.
During Children's Week, a special program for the little ones: on October 13 and 15, children aged 6 to 12 can participate in the visit Yayoi Kusama e as cores [Yayoi Kusama and the colors] and journey the world having as a starting point the exotic species in the botanical collection during the visit Volta ao mundo [Around the World] on October 12 and 14.
Every Wednesday, visits to Inhotim are free, as well as last Sunday, October 29. Access our Free Guide, check the visitation rules, plan your visit and enjoy Inhotim.
National Science and Technology Week
From October 14 to 20, Inhotim hosts the 20th National Science and Technology Week. Promoted by the Ministry of Science, Technology and Innovation (MCTI), the meetings' guiding theme will be Basic Sciences for Sustainable Development. Lectures, a round table, a Science Space and more are part of the event. Check out the full schedule and participate.
Monthly Schedule
October at Inhotim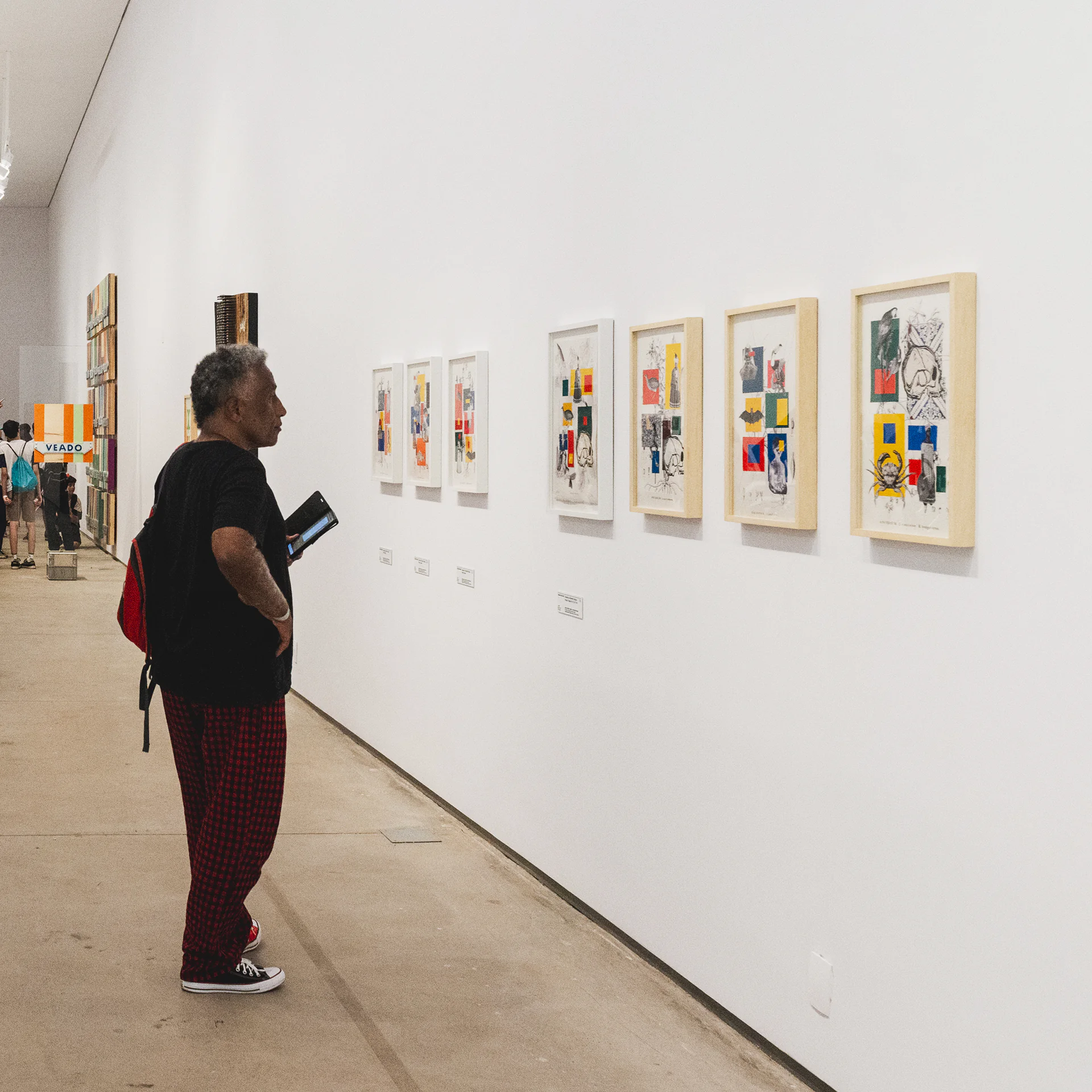 Galeria Lago, in Eixo Rosa do Inhotim, hosts "Making the modern, building the contemporary: Rubem Valentim". Photo: Daniela Paoliello
October at Inhotim
October 1