June at Inhotim
Winter is coming, and those who arrive early at Inhotim can contemplate the mists that cover the lakes and the horizon. Low temperatures require adequate clothes, but can make long walks even more enjoyable.
June also reserves special surprises on Inhotim's program. At the beginning of the month, there is still time to participate in the free activities of the Environment Week 2023, in addition to the daily panoramic tours, and the thematic visits PublicAção, Art, religion and body and Well-being, on our free Wednesday.
New temporary exhibitions, which are part of the program Abdias Nascimento e o Museu de Arte Negra [Abdias Nascimento and the Black Art Museum], opened at Praça Gallery at the end of May. A noite suspensa ou o que posso aprender com o silêncio [Suspended night or what I can learn from silence] (2023), by Mônica Ventura, presents a large-scale installation that invites visitors to explore layers and symbologies of traditional Amerindian peoples to bring insights about the different syntheses of the universe.
The multifaceted universe of Deoscóredes Maximiliano do Santos (1917–2013), a.k.a. Mestre Didi, is the focus of Mestre Didi: os iniciados no mistério não morrem [Mestre Didi: Those Initiated in the Mystery Do Not Die], also at Praça Gallery. The exhibition presents, from around 30 sculptures from Inhotim Institute's Collection, the multiple facets of Mestre Didi: artist, thinker and religious leader of Candomblé. The exhibit, co-curated by the guest curator Igor Simões and the Inhotim curatorial team, also features pieces by Rubem Valentim, Ayrson Heráclito, as well as commissioned works of Ilê Asipá.
Throughout the month, Educativo Inhotim proposes the themed visits PublicAção and Body, art and religion. Still on view at the Mata Gallery is Terceiro Ato: Sortilégio [Third Act: Sortilege], featuring works by Abdias Nascimento produced during the period in which the artist was exiled in the United States, and established himself worldwide as one of the leading personalities of Afro-Brazilian art.
Inhotim opens Wednesday to Friday, 9:30 am – 4:30 pm, and on Saturday, Sunday and holidays, 9:30 am – 5:30 pm On Thursday and Friday of the Corpus Christi holiday, we are open until 5:30 pm. Tickets for June 7 and 25 are free. Schedule your visit and enjoy more convenience by purchasing your tickets in advance. Come visit Inhotim and have a great time.
Monthly Schedule
June at Inhotim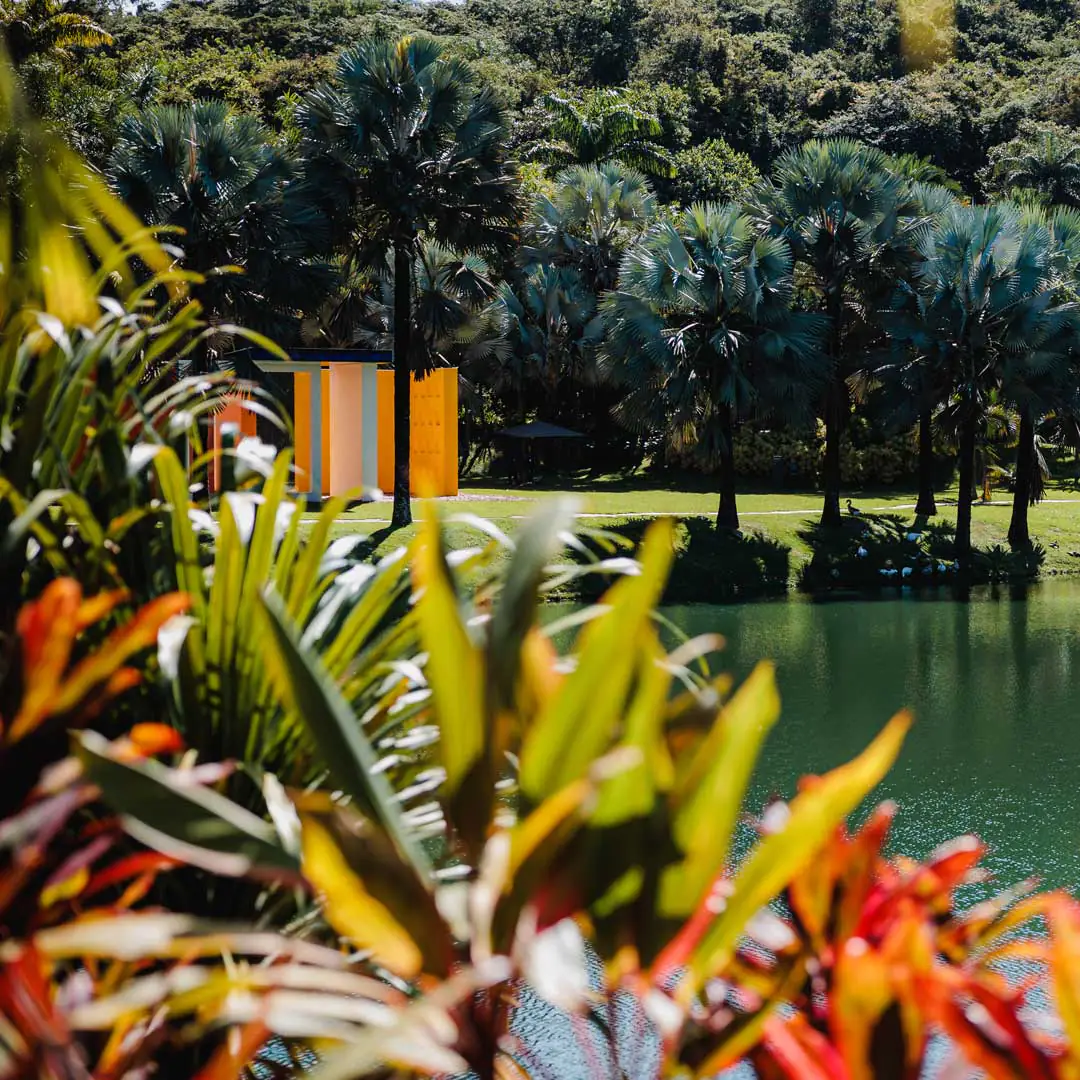 A noite suspensa ou o que posso aprender com o silêncio [Suspended night or what I can learn from silence] (2023), by Mônica Ventura, is one of the new works on view at Inhotim. Photo: Denise dos Santos
June at Inhotim
June 1
Visit Inhotim in June, see the new temporary exhibitions and the changes in the landscape