December at Inhotim
The Holidays are coming, vacation is in the air, meeting with family and friends, and good times. Inhotim's doors are open to welcome you. Take the opportunity to come see the new temporary exhibitions of the Abdias Nascimento Program, connect with the art and botanical collections, and participate in our in-person and virtual visits throughout this month.
New exhibitions
Inaugurated on November 19, Inhotim holds Quilombo: vida, problemas e aspirações do negro, at the Lago Gallery, and O Mundo é o Teatro do Homem, at the Fonte Gallery.
The two exhibitions have as their starting point the pages of the Quilombo newspaper, a publication spearheaded by Nascimento and the Black Experimental Theater, and are part of the Second Act of the Abdias Nascimento e o Museu de Arte Negra exhibition, a curatorial program developed by the Institute in partnership with Ipeafro since 2021. Discover the new exhibitions of the Abdias Nascimento Program.
Visits accompanied by Inhotim's Educational team
On all visitation days, Inhotim's Educational team invites you to the Panoramic Tour. The tour leaves at 10:30 am from Reception.
Lovers of nature and plants, and people interested in the Cerrado will have a blast at the visit Bastidores do Viveiro, with different dates and programs.
The themed visits present itineraries and reflections that highlight the new exhibitions of the Abdias Nascimento Program, on view at the Lago and Fonte Galleries. At each visit, the educators seek to build, together with the public, reflections on the legacy and ideas of Abdias Nascimento and the Black Art Museum. The Openings Themed visit takes place on Saturdays, Sundays and holidays in December.
Inhotim Opening Hours
Inhotim opens from Wednesday to Friday, from 9:30 am to 4:30 pm. On Saturdays and Sundays, the park is open from 9:30 am to 5:30 pm.
Due to the Holidays, Inhotim will be closed on December 24, 25 and 31, and on January 1st.
Learn more about the museum's restaurants and cafes open on the day of your visit.

Buy your tickets now and book the electric carts in advance. Enjoy your visit
Monthly Schedule
December at Inhotim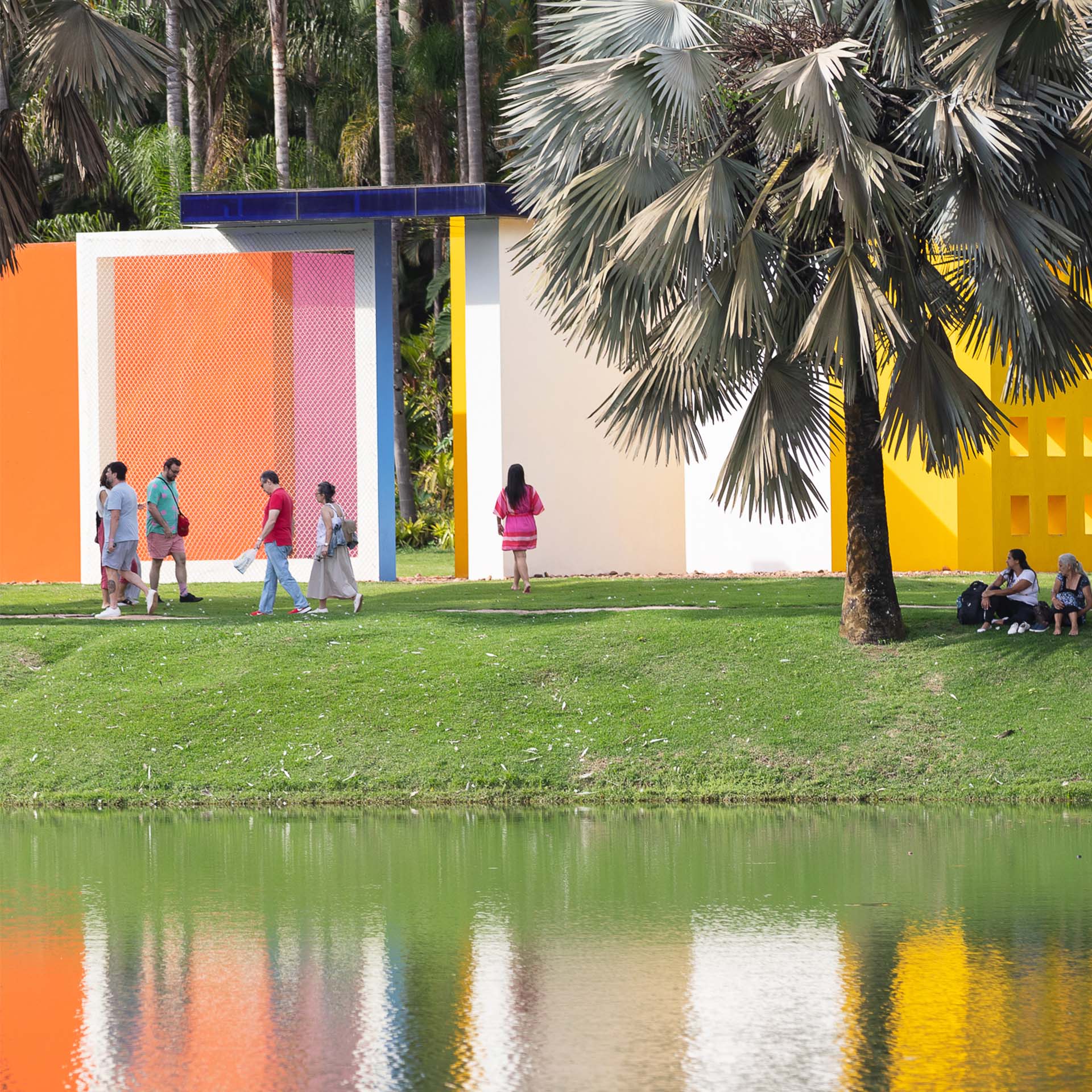 Summer is starting to show its first signs, and we invite you to enjoy the sunny season at Inhotim. Photo: Raphael Calixto.
December at Inhotim
In-person and virtual visits, temporary exhibitions and the permanent collection await you during Holidays at Inhotim.