September at Inhotim
On September 10, we celebrate our 16th anniversary open to the public. Since then, almost 4 million people have had a unique experience here, in contact with nature and art. September will be just like that!
Until spring comes, at the end of the month, a lot will happen here. In our gardens, we will host music and dance performances, an entire week dedicated to the Cerrado with workshops, visits, birding — all this to celebrate Inhotim's 16th anniversary!
Mateus Aleluia and Grupo Corpo
On September 11, the musician and researcher Mateus Aleluia takes the stage near Hélio Oiticica's Magic Square #5 to present the musical ancestry of Pan-Africanism. On the same day, Grupo Corpo performs Gira, featuring original score by Metá Metá and choreography by Rodrigo Pederneiras. Book your ticket.
Cerrado week
Biome, culture, heritage. In the week in which we celebrate Cerrado Day, Inhotim's Botanical Garden and Educational teams have prepared a special, free program that invites visitors to discover the Cerrado biome and understand our role in its conservation. This biome is the subject of several actions throughout the year here at Inhotim.
On September 10 and 11, the Cerrado Week offers educational workshops, mediated visits, curiosities about the biome at Espaço Ciência, birding and much more. Choose the date of your visit, get your ticket in advance and join us!
Final weeks
Some exhibitions and outdoor works are on their final of visitation. Don't miss the last weeks of the Deslocamentos [Displacements] exhibition, at the Fonte Gallery. The work PROPAGANDA (2021), by Lucia Koch, also waves goodbye to the public in a few weeks.
Visit Schedule
You already know it, but it's worth remembering. On all visitation days, you have the opportunity to be accompanied by Inhotim's Educational team in the Panoramic Tour. The tour leaves at 10:30 am from Reception.
Lovers of nature, plants, and people interested in the Cerrado will have a blast at the visit Bastidores do Viveiro, with different dates and programs.
With the arrival of spring, Inhotim's Educational team has prepared the Senses themed visit, which will invite you to explore the senses through Inhotim's artistic and botanical collections. Looking, hearing, touching, smelling and tasting – experiences that depend on the senses – will be addressed in this visit.
Inhotim Opening Hours
In September, Inhotim opens from Wednesday to Friday, from 9:30 am to 4:30 pm. On Saturdays, Sundays and the September 7 holiday, the park is open from 9:30 am to 5:30 pm. Learn more about the museum's restaurants and cafes open on the day of your visit.

Buy your tickets now and book the electric carts in advance. Enjoy your visit!
Monthly Schedule
September at Inhotim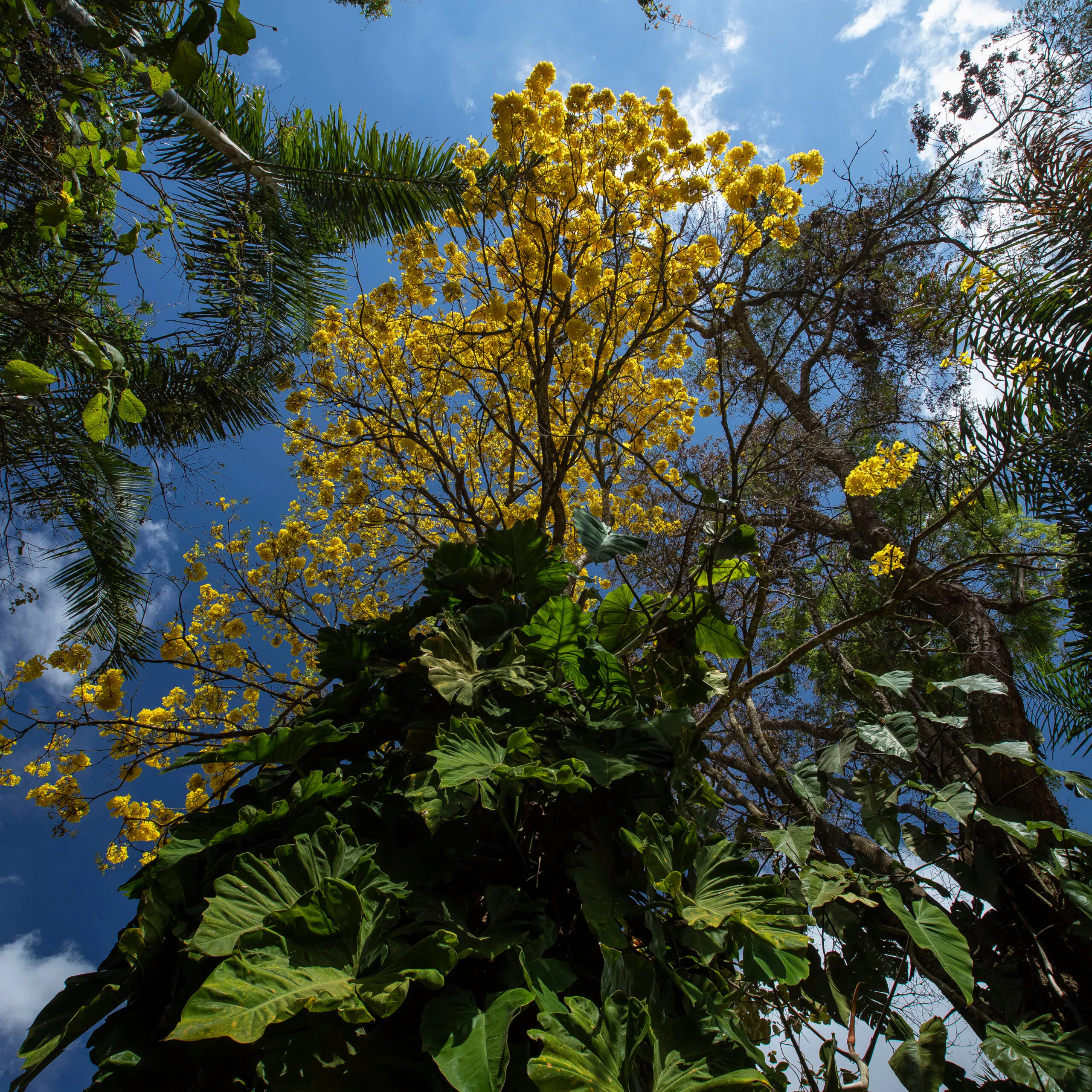 ipê-amarelo (Handroanthus albus). Nos 16 anos do Inhotim, arte, natureza, música e dança estão cada vez mais conectadas. Foto: João Marcos Rosa/NITRO.
Setembro no Inhotim
Programação mensal do Instituto