Rubem Valentim Atelier | Lago Gallery
In conjunction with the exhibition Fazer o moderno, construir o contemporâneo: Rubem Valentim [Making the modern, building the contemporary: Rubem Valentim], Inhotim's Educational team proposes an educational program that will be held at Ateliê Rubem Valentim, at the Lago Gallery. The program includes activities such as workshops, a mediation laboratory and conversation circles. Check the schedule and join us.
Meridians and parallels – imaginary lines workshop
During the workshop, visitors are invited to learn about abstraction as a way of creating symbolic representations about art and thought in a non-literal or figurative way.
The exercise proposed by the Education team will be to abstract from words chosen randomly, creating images and symbols in the context of the exhibitions Making the modern, building the contemporary: Rubem Valentim and Direito à Forma [Right to form].
Join us on Wednesdays, November 08 and 15, at 10:00 am and 2:00 pm.
Geometric Abstractions Workshop
Drawing from the works of Rubem Valentim, who uses geometric figures, emblems and signs to address religious and cultural topics, the workshop aims to make participants think about everyday relationships and produce visual representations of those through pre-determined shapes with stamps and paint.
The activity is recommended for children aged 6 to 12, accompanied by their guardians.
Join us on Saturday, November 22 and 29 at 10:00 am and 2:00 pm.
Mediation laboratory: Research and experiences in flux
The Mediation Laboratory is an activity that aims to create an experimental educational environment for the public and improve the relationship between educators and visitors, drawing on immersions in the Inhotim collection.
From there, the educators propose a space for experimentation and investigation of languages, concepts, techniques and materials as mediation strategies. The documentation and systematization of this experience will be implemented in an educational product.
Join us on Fridays, November 03, 10, 17 and 24, at 10:00 am and 2:00 pm.
Conversation Circle – Workshop Talk
Inhotim's Educators invite visitors to put into perspective the education and artistic practices that blend together on exhibitions. The objective is to build spaces for dialogue, reflection and criticism between artists, educators, researchers and cultural agents working with art, anti-racist pedagogy and the multiple possibilities of the production of black artists.
Join us Saturday, November 04, 18 and 25 at 2:00 pm
Pedagogical devices – Things to think about – Afroconscious Memory
In this activity, Inhotim's Education team proposes reflections based on Afro-diasporic references inserted and perpetuated in everyday life, such as words of African origin, adinkras and racist sentences.
The goal is to think and work the language, culture and representation in an independent and enriching way.
Join us on Sundays, November 05, 12, 19 and 26, at 10:00 am and 2:00 pm.
Educational Programming
Rubem Valentim Atelier | Lago Gallery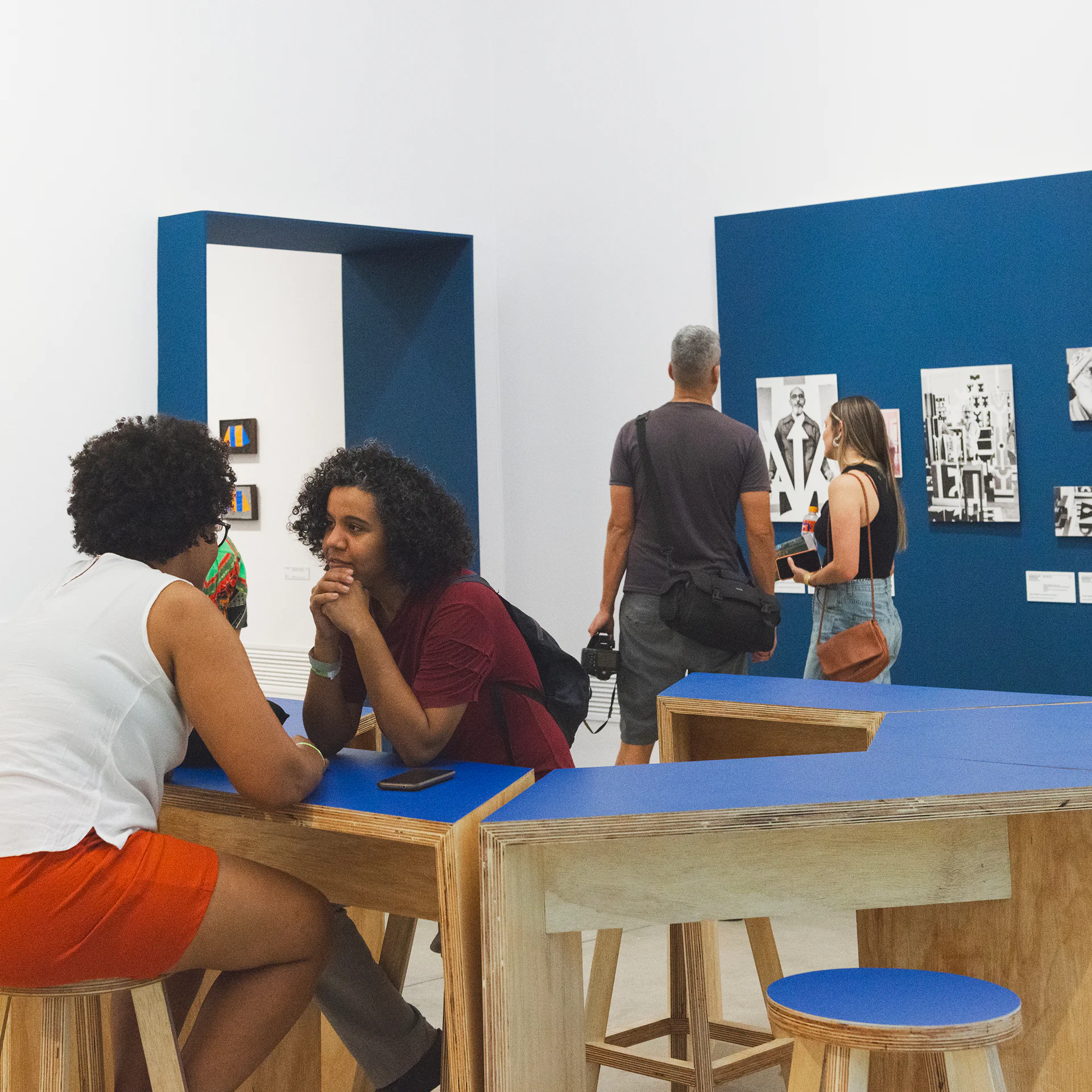 Atelier is part of the exhibition space of the exhibition Making the modern, building the contemporary: Rubem Valentim. Photo: Daniela Paoliello
Mediation laboratory: Research and experiences in flux
Lago Gallery
Nov 03, 10, 17 and 24
10:00 am and 2:00 pm
Conversation Circle - Workshop Talk
Lago Gallery
Nov 04, 18 and 25
2:00 pm
Pedagogical devices - Things to think about - Afroconscious Memory
Lago Gallery
Nov 05, 12, 19 and 26
10:00 am and 2:00 pm
Meridians and parallels - imaginary lines workshop
Lago Gallery
Nov 08 and 15
10:00 am and 2:00 pm
Geometric Abstractions Workshop
Lago Gallery
Nov 22 and 29
10:00 am and 2:00 pm